Call for Papers
19.-21.10.2022 Université Paul Valéry Montpellier 3 (France)
Elfriede Jelinek: Text-Speaking-Singing
Interdisciplinary workshop for young researchers and artists
organized by
Interuniversitärer Forschungsverbund Elfriede Jelinek
der Universität Wien
und der Musik und Kunst Privatuniversität der Stadt Wien,
the Université Paul Valéry Montpellier 3
and the Université Sorbonne nouvelle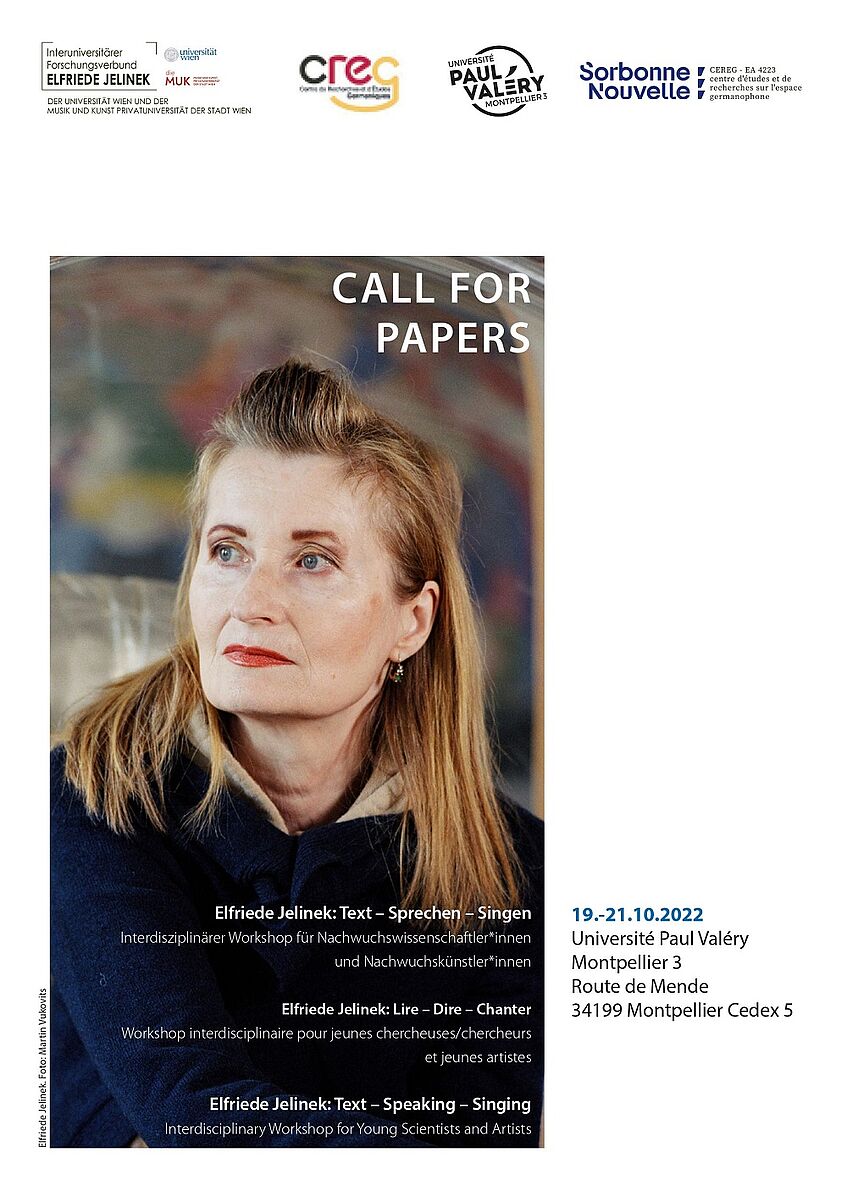 From October 19th -21st , 2022, the Interuniversitäre Forschungsverbund Elfriede Jelinek is organizing an interdisciplinary workshop for young researchers and artists in cooperation with the Université Paul Valéry Montpellier 3 and the Université Sorbonne nouvelle. The workshop will be held at the Université Paul Valéry 3 in Montpellier, France.
The workshop is aimed at graduates, postgraduate students, doctoral researchers and project members coming from literary, music, theater, film or media studies as well as students from artistic disciplines (dramaturgy, directing, acting, creative writing, dance, composition, vocal and instrumental studies) who are working on projects in the context of Elfriede Jelinek and are interested in long term cooperation with international Jelinek experts.
The workshop will cover a wide variety of themes: the organizing team welcomes abstracts to scientific or artistic projects or in the field of artistic research that deal with aspects of linguistic presentation, musicality and performativity in or in the context and tradition of Jelinek's oeuvre.
Projects that deal with the interplay of text, speaking and singing, current tendencies in composition, dance or performance as well as the contemporary reception and staging of her texts will also be of interest.
Prof. Dr. Inge Arteel (Vrije Universiteit Brussel, Belgium)
Dr. habil. Susanne Böhmisch (Aix-Marseille Université, France)
Maya Bösch (stage director, Geneva, Switzerland)
Univ.-Prof. Dr. Karoline Exner (Music and Arts University of the City of Vienna, Austria)
Prof. Dr. Yasmin Hoffmann (Université Paul Valéry, Montpellier 3, France)
Dr. Sarah Neelsen (Université Sorbonne novelle, France)
Prof. Dr. Artur Pełka (Uniwersytet Łódzki, Poland)
Univ.-Prof. MMAG. Julia Purgina (Music and Arts University of the City of Vienna, Austria)
Submission Details
Submit abstracts (ca. 300 words incl. 3-4 bibliographic references) with a title, the type of project you are currently working on, and a short CV (not more than 70 words) in german or french or english to Marie-Theres Auer: m.auer@muk.ac.at
Deadline for abstracts is April 30th, 2022.
The complete call for papers in english is available for download here.
Den gesamten Call for Papers zum Download finden Sie hier.
Apel a contribution en français ici.